Do you need money really quick and don't have time to wait until the banks open after the weekend? With Car Title Loan Lenders USA you can get cash in hand quickly even when it's a Sunday and you're looking for title loan places. Our friendly lending agents work every day of the week and they are standing by ready to help you with your online application. If you want to finish the online title loan process completely online that's fine as well. We work with customers in person and online and can accept your application on Sundays, or any day of the week for that matter!
What Do I Need To Qualify For A Title Loan On A Sunday?
When you're looking for title loans open on Sunday you can be 100% certain that we're here to help you get the money you need.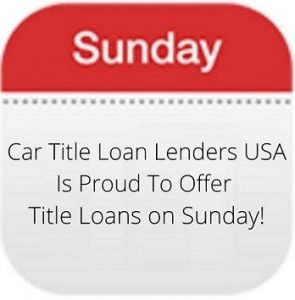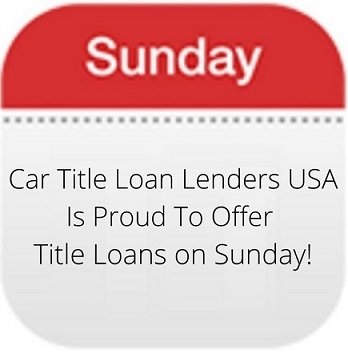 We don't want to turn any customers away, no matter what day of the week it is. If you have a car and enough equity in your vehicle, we'll work with you! We've helped thousands of customers on both Saturdays and Sundays so we know we can do the same for you!
Can I Get My Cash On Sunday Or Do I Need To Wait Until Monday
The loan underwriters can finish processing your title loan application and get everything completed within a few hours and it doesn't matter if it's a Sunday or a normal workday. But it may take one business day to get cash sent to your bank checking or savings account. This is because all banks and financial institutions are closed on Sundays and no funds can be sent until they open on Monday.
There are some situations though where you can actually get fast cash in hand when you apply for a title loan over the weekend. You can ask to have the money sent to you by Money Order or other forms of online money processing services. Another option is to pick up your cash in person. Some companies that are open on Saturdays and Sundays will let you grab your cash or check a few minutes after being approved!
How Do I Get Started If I Need A Title Loan On The Weekend?
To get started on our online application process all you need to do is click on our 'Apply' link above which will ask basic questions about your vehicle history, how much money you make per year, and how much money you're looking for. This typically takes less than an hour and the amount of time is no different if you're looking for a title loan open on Sunday.
Even on a Sunday, the option is yours when it comes to meeting with us in person or submitting your information for a car title loan completely online. Our in person reps work on Saturdays and Sundays from 9am-5pm PST and even outside those hours, we can answer any questions you have both online and over the phone.
In some cases, a loan officer may be able to meet with you at your home or place of business on Sundays and Saturdays. Having a loan officer meet with you in person can actually speed up the process as it also gets the vehicle inspection out of the way, even though there are still some ways to get a title loan without bringing in the car. So even if you're out and about on a Sunday and looking for lender that's open, we can help! If you live close by, you can head to our Southern California office at any time of the day during business hours.