Are you looking to cash out some of the equity from your semi truck? If so, you've come to the right place. The staff at Car Title Loan Lenders is known for having industry leading rates and terms for online car title loans, but we also offer semi truck title loans for borrowers with sufficient equity. We can get you same day financing for any type of qualified commercial truck title loan, assuming you meet the basic requirements.
What Is A Semi Truck Title Loan And How To Qualify
A semi truck title loan is a formal agreement between you and a lender where they lend you cash using the equity from your semi as collateral. To qualify for semi truck title loans, borrowers must pay off semi trucks with surplus market value. The borrower must be able to provide evidence of a commercial truck's financial worth in the form of a comprehensive vehicle condition report which shows that the available equity exceeds what is owed on it. This way, if anything were ever to happen to their commercial truck during the borrowing term, all that needs to be repaid is what was originally borrowed, along with interest and finance fees.
What types of Commerical Trucks Will Qualify For A Title Loan
The vast majority of service and commercial trucks that are privately owned will qualify.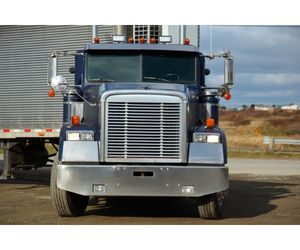 These include semi trucks, tractors, boat trailers, dump trucks, construction equipment and many other qualifying trailers and commercial vehicles. Commercial leased or rented vehicles will not qualify for semi truck title loans as you need to have the actual pink slip or title to show you own the property and there are no active liens or other loans.
Who Is Eligible For A Semi Truck Title Loan
Anyone with a valid semi truck with surplus resale value can secure an online semi truck title loan, provided they meet the basic requirements needed to gain approval. The borrower must be above the age of 18 years old and legally capable of entering into legal contracts, along with providing proof of their identity to lenders using ID verification processes. Furthermore, borrowers must satisfy our company's minimum monthly income requirement, which includes having a steady monthly source of income to make monthly vehicle payments.
You will also need to submit the truck for an in person inspection so our qualified agents can verify the truck is fully operational and carries the appropriate value. The inspection is typically the last part of the qualifying process and it can be done at any of our locations near you or we can send an agent to your location to conduct the inspection.
How Much Cash Can I Get With A Big Rig Loan
The amount available with a truck title loan is endless and is only subject to the semi truck's current value. This value is based on a combination of factors, including the big rig's model, year, condition, and mileage, along with its overall resale value. You may be able to secure a truck title loan of up to 60% of your big rig's equity, as this amount is considered a safe ceiling for securing these kinds of private property loans.
What Else Do I Need To Know About Commercial Truck Title Loans
To qualify for any type of commercial truck title loan, you must have owned your semi truck/commercial vehicle for at least six months or more if it was purchased from an authorized dealer. In addition to having had ownership experience with commercial vehicles, borrowers must also meet all our other credit requirements to be approved by a local title loan lender or from a company that offers title loans with no store visit. This doesn't mean you need good credit, though. Similar to online title loans for people with bad credit, showing equity in your commercial truck is more important. That's more important than if you missed a loan payment or two.
Today, you can get started on an online application with Car Title Loan Lenders USA. We promise the application will be quick and easy so you can get on the road to financial freedom as soon as possible. A title loan isn't just a short-term solution; we've had more than enough time to perfect our semi and commercial vehicle title loans. Contact us today via phone or email.