With Car Title Loan Lenders USA you can get cash in hand quickly, even on a Sunday, and you're looking for title loan places. Our friendly lending agents work every day of the week and are standing by, ready to help you with your online application. If you want to finish the online title loan process entirely online, that's also fine. We work with customers in person and online and can accept your application on Sundays, or any day of the week!
What Do I Need To Qualify For A Title Loan On A Sunday?
Anyone looking for a title loan in Sundays or after hours can rest assured knowing the requirements are the same as any other time.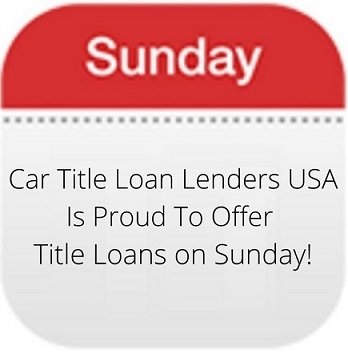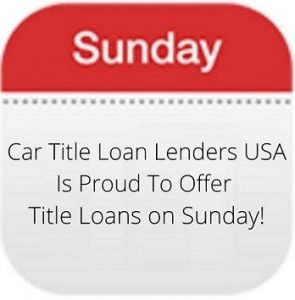 Similar to if you apply with us in person, we need your car's pink slip showing proof you own the vehicle. We need to see income verification and proof of employment. Sometimes, we'll also look for proof if vehicle insurance and proof that your car is registered. We've helped thousands of customers on Saturdays and Sundays, so we know we can do the same for you!
Can I Get My Cash On Sunday, Or Do I Need To Wait Until Monday
The loan underwriters can finish processing your title loan application and get everything completed within a few hours, and it doesn't matter if it's a Sunday or a typical workday. But it may take one business day to send cash to your bank checking or savings account. This is because all banks and financial institutions are closed on Sundays, and no funds can be sent until they open on Monday.
There are some situations, though, where you can get fast cash in hand when you apply for a title loan over the weekend. Some companies open on Saturdays and Sundays will let you grab cash or check a few minutes after approval!
How Do I Get Started If I Need A Title Loan On The Weekend?
Get started with Car Title Loan Lenders USA to find a lender near you that's open on the weekend. We work with dozens of companies and many of these firms have underwriters that can help you at all hours of the day. Not only that, but you can call us after hours at 866-515-9866 and we'll get started right away on your application.
Even on a Sunday, the option is yours when meeting with us in person or submitting your information for a car title loan entirely online. We have reps working 9-5 on weekends and you can even get your cash that same day from a local lender without having to wait for banks to open after the weekend!
The bottom line, apply with us any time of the week to see how much money you can get for your vehicle's equity. We'll take your application and underwrite the loan docs and hopefully get you cash that same day!