Title loans have come a long way over the past decade and it's now much easier and quicker to apply and get cash for the collateral in your car. Most applicants can now be approved for an instant title loan within 24 hours if they know exactly what's required and work with the lender to expedite the underwriting process.
We all know that with a title loan there's no real requirement to wait on approval from a bank manager or in-depth credit check. The speed and pace at which you can get a car title loan often depend on how quickly you can submit the required documents and paperwork for underwriting. Another factor for an instant title loan is whether you live in a state that allows this type of borrowing. It's going to be impossible to get cash fast or at all if you reside in a state like New York or West Virginia where title loans are outlawed. But if you live in a state like California or Texas, the speed at which you get approved all depends on how fast you can submit your documents.
How to qualify for and get an instant title loan
The first step to getting instant cash from the nearest title loan lender is to submit all the required documents in the necessary order.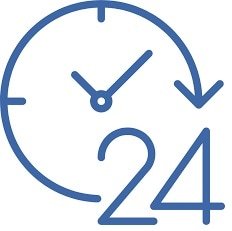 Most online title loan companies have a set process in place that spells out exactly what's required. Applicants need to submit paperwork showing they're the clear owner of the vehicle with no existing lien. The original certified pink slip or car title will be required by all lenders. Don't forget about all the personal information that's required for any type of personal loan application. Get together your state or government-issued id and also anything else that may be required to prove residence.
A secured lender also requires proof of income from your current employer that shows payment information such as a checking account or direct deposit. Another requirement is up-to-date vehicle registration from the DMV and something showing you have current and up-to-date and valid insurance on your vehicle.
Credit Requirements for a fast online title loan near you
Did you notice we have yet to mention anything about the credit requirements? The good thing about online car title loans is that lenders don't put much emphasis on your credit score. The approval process for the top rated title loan companies is much quicker without having to check credit and verify missed payments or other credit problems. Instead of numerous credit checks, a title loan lender wants to make sure there's equity in the vehicle and you can get them the car title before funds are distributed. This is where most issues arise and we see delays with getting approval for funding. It's up to you as the applicant to make sure you have the actual pink slip that shows you are the true owner of the vehicle. The process will be smooth and quick when you hand over a title that shows no liens or other active loans.
Should I apply with an instant lender online or with the nearest company to me?
You can always apply for a title loan online without ever having to leave your house. In fact, the vast majority of applicants will have no trouble getting approved for a title loan by doing everything on the internet. This way is of course quicker and more convenient, but some people would rather meet with a lender and make sure that everything is legitimate in person. You can drive to the nearest instant title loan location or find a company that offers loans near you. Either way, there will still be a requirement to get the vehicle appraised and checked for damage or other issues like a past repossession or impounded vehicle. When you first apply you can submit a few pictures, but most of the time the car will need to be seen and verified in person by the actual lender nearest to you or a local notary.
A fast approval means a quick payout with instant online title loans
Title loan approvals have gotten much quicker over the past couple of years and we can only expect that to continue. The internet makes it so much easier to get everything processed quickly and you can even submit an entire application over the phone with customer service. The last step of a fast title loan is to actually get the money from the lender. You can get processed and approved within 24 hours, but sometimes it takes longer to get the actual cash. Try to get everything finished before your bank closes to get under the ACH and bank wire cutoff times.
You should also consider meeting with the title loan company in person to get cash or a physical check instead of having it sent to your bank account. Don't forget, once you get cash for your vehicle title you need to pay it off quickly to avoid huge finance charges. Do everything possible to pay more than the minimum and pay off your online title loans faster. By following these steps you can use the cash for what's needed and get out from under the debt quickly!