People take out car title loans because they need fast cash to pay for a financial issue or emergency. These types of loans can truly be a relief at the time as most applicants otherwise can't qualify for a traditional loan. However, what happens if, after a few months, you find yourself in a situation where you need assistance with auto title loans?
The good news is that options are available for people at all stages who know help with their title lending payments and interest rates. If you are struggling with high costs and excessive interest rates with instant title loans online, several options can help you get the relief you need.
Options To Get Relief From An Existing Car Title Loan
One option is to refinance your car title loan through a company like Car Title Loan Lenders USA. This service helps connect borrowers with lenders who offer more competitive rates and terms on title loans, making it easier for them to get out of debt faster. Besides a refinance, you can also search out companies that buy out existing loans. These lenders will pay off the loan in full and offer new terms and rates that work better for your budget. Any refi or auto title loan buyout will surely get you better financing terms, but it can be hard to find a company if you're in default or have fallen more than 2 months behind.
Other potential solutions besides a refinance include negotiating directly with your lender or working with a vehicle title loan consolidation service. These services can help you consolidate multiple title loans into one lower monthly payment, allowing you to get out of the burden of heavy debt more quickly.
Will The Lender Lower The Rates Or Monthly Payments
Because you're locked into a contract doesn't mean a lender won't work with you if you tell them the APR or monthly payments are too high. In this scenario, you can directly contact the title loan company and request that they lower the rates or monthly payments. There's no risk explaining to them that you can't make the monthly payments, and they should be open to renegotiating your repayment terms.
With a bit of research and persistence, plenty of solutions are available to help you achieve title loan relief, and as always, it doesn't hurt to ask.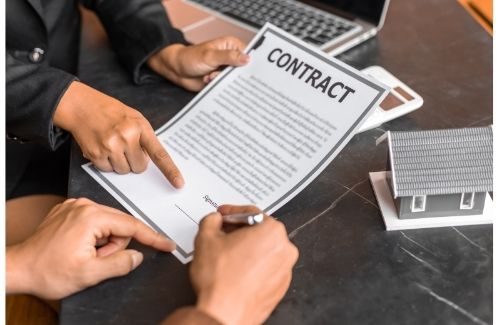 Get Relief By Getting Out Of A Car Title Loan
If you're struggling with high payments and excessive interest rates on your title loans, several options can help you get the relief you need. You can try to refinance your loan and lock in a lower interest rate, work with a consolidation service, or directly negotiate with your lender for more manageable repayment terms. Taking action early on is critical to getting out from under the burden of these loans so that you can move on with your finances.
If you've exhausted the abovementioned methods, you can take more aggressive actions to completely get out of a car title loan. Options to get out of the lending contract can include selling or pawning your car title, taking out a payday loan, or declaring bankruptcy if necessary. Did you take out an online title loan from a company not licensed in your state? There could be a scenario where the loan is invalidated because the finance company was not following state or local regulations.
How To Save Money And Time With Effective Title Loan Relief Assistance
By shortening the payoff time or lending contract by even a couple of months, you can help decrease the interest you owe and save yourself money in the long run.
In addition to seeking title loan relief on your own, a handful of Government programs and consumer advocacy groups offer assistance to borrowers in this situation. The assistance can be in the form of legal aid or general help working with your lender to get relief from high interest rates or fees.
Whatever path you choose, remember that there is always help available for people struggling with title loans for bad credit. Contact the lending assistance team at Car Title Loan Lenders to see what options are available to resolve the issues with your existing loan. So don't delay getting the relief you need – start exploring your options today!